Quartz Australian White 2023 Autumn Ram Sale – Feb 13th – 14th
Contact:

Jack Whitty | KMWL Forbes | 0407 668 669
ONLINE ONLY at AuctionsPlus
Sale opening: Monday 13th February at 11am – Timer on: Tuesday 14th February 4pm
Sale will include 33 high quality Australian White Rams.
OPEN DAY –  Thursday 9th February 9:30am to 11:30am. – On Farm – 223 Twelve Mile Rd, Forbes, NSW
Quartz Australian White your source of leading Tattykeel genetics is committed to collection of data assisting your purchase including Pedigrees, Birth, Weaning, Early post weaning & Yearling weights.
Sale Lots are sorted by lambing management group and ranked in descending Early Post Weaning Weight within each group. (% Early Post Weaning Weight 100% = Average of the group)
Lots 1-12 October Born
Lots 13-29 November Born
Lots 30-33 December Born
AWSBA Blue Tag Flock Rams, Brucellosis accredited and OJD Vaccinated
2% rebate to outside agents introducing buyers in writing 48 hours prior to sale and settling on their behalf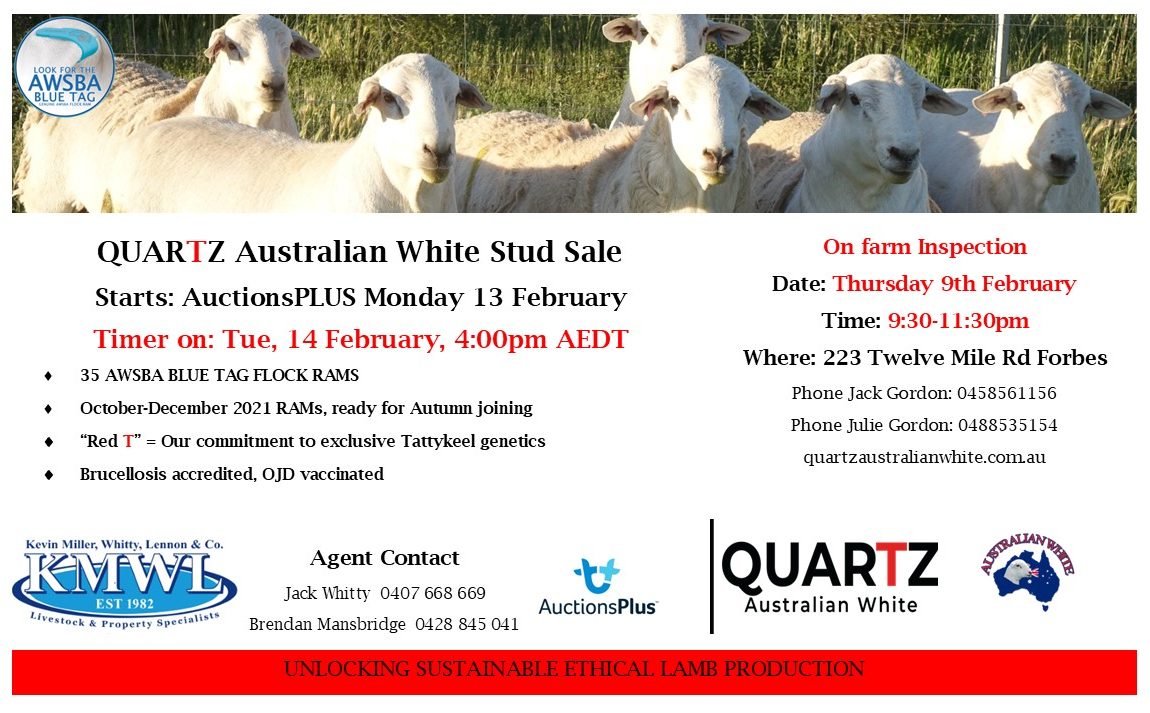 Enquiries always welcome.
Please contact:
Jack Whitty | Kevin Miller Whitty Lennon & Company | 0407 668 669
Brendan Mansbridge | Kevin Miller Whitty Lennon & Company | 0428 845 041